Weddings are the time when there is much celebration and fanfare. People dress up and let their hair down to celebrate this momentous occasion. Brides these days are experimenting with gowns, which have long been popular, particularly for cocktail parties or wedding receptions. 
If you are someone who wishes to adorn a gown for your wedding, we have the best reception gowns at Dazzles for you. The gowns we list today with a whole lot of choices in colors and designs are worth taking inspiration from. They surely will make you the center of attention on your D-day.
Red Wedding Gown with a hint of tradition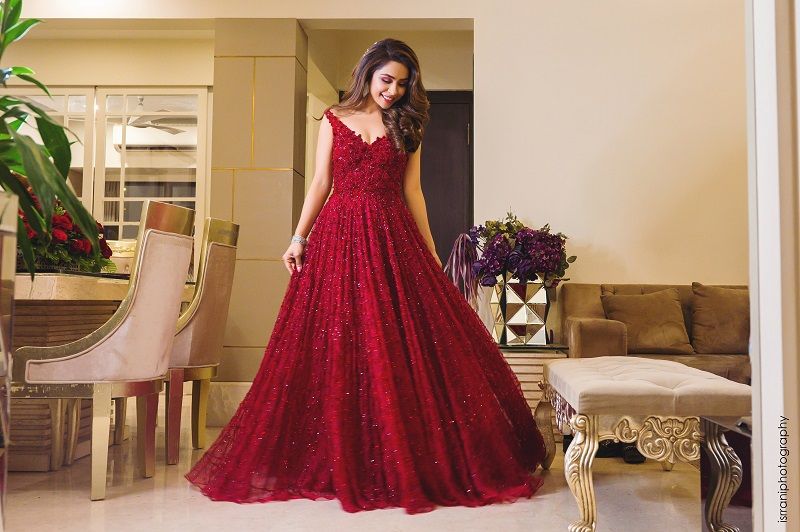 New bridal trends and ideas emerge every year, but the classic color red never goes out of style. A red gown combines traditional and modern aspects; it is considered lucky in Indian culture and appropriate for all wedding-related occasions, including the reception day!
Trumpet Bridal Gown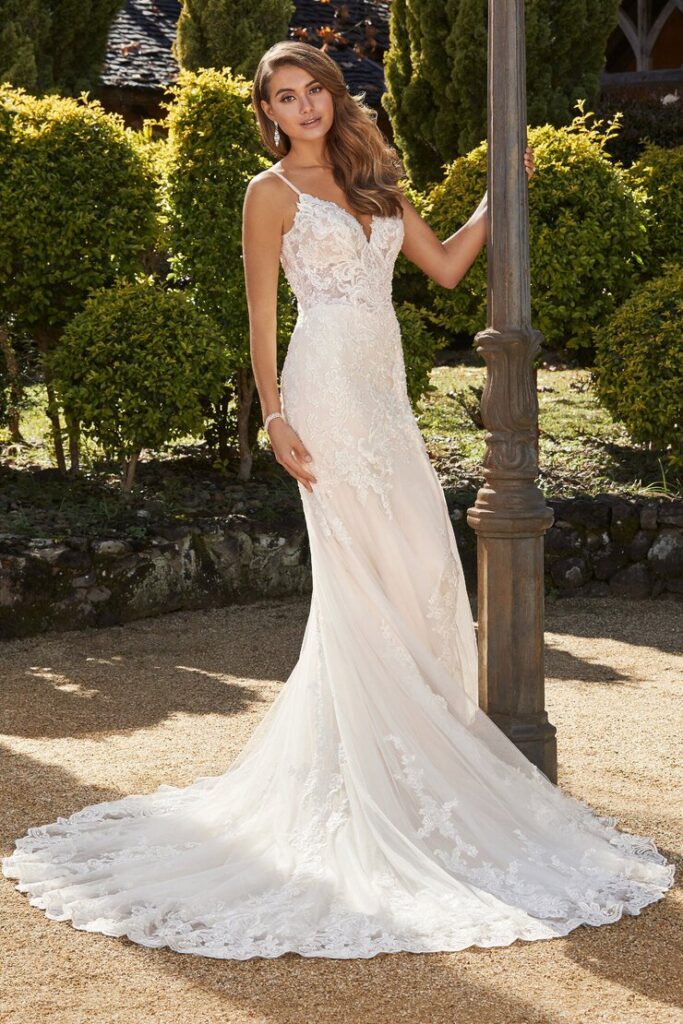 Every hourglass-shaped bride prefers an exquisite trumpet-style wedding dress. The trumpet bridal dress resembles a mermaid dress in many ways. However, it has a little more room for comfort. This fits closer around the chest and waist before opening up considerably around the knees.
Saree Gown in Lava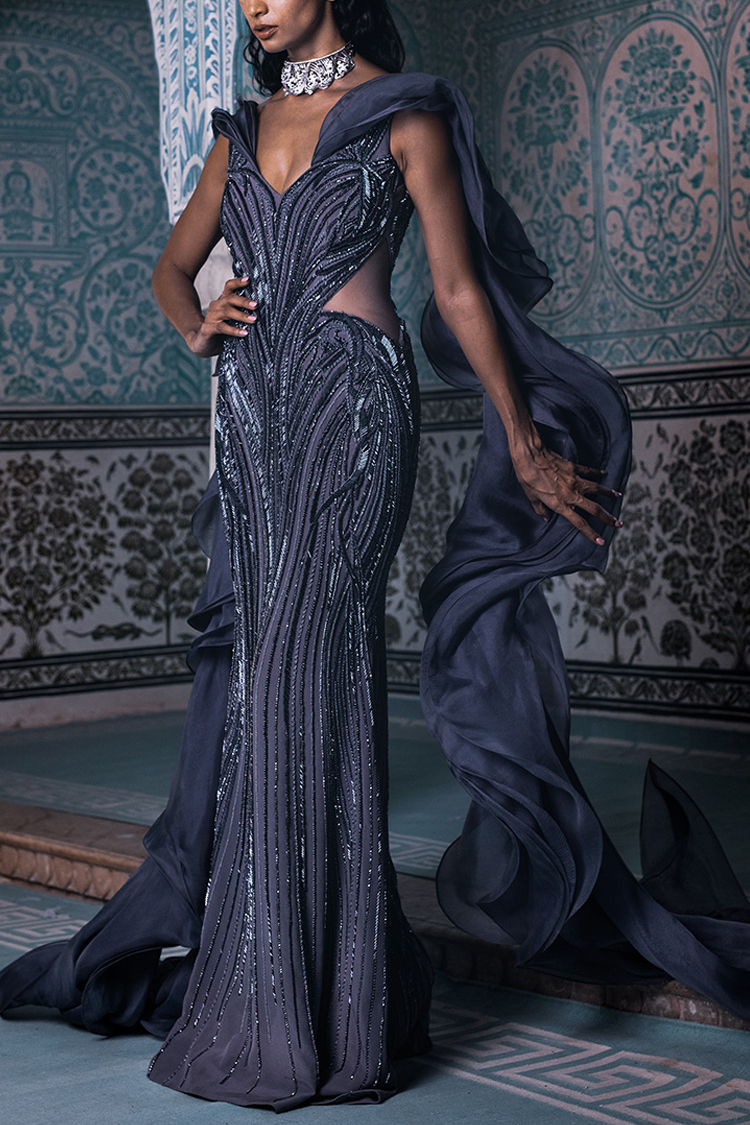 A summer saree gown in the lava color is appropriate for a summer wedding or a wedding on the beach. For your dress to last through the late hours of the night, you should also ensure that it is lightweight and flexible without the hassle of draping it. Hence, a saree gown is ideal for those who want an elegant look for their reception.
A Starry night Gown
Evening gatherings ooze glitter and glam.  Make a statement with this blue gown, a dramatic shift from other vibrant-themed wedding celebrations.. This beautiful piece from Dazzle – The Bridal Studio is a must-have if you're searching for a selection of gowns with highly elegant looks. This bridal showroom in Bangalore can give you the best of your wedding wear!
Elegant Pink Gown for Brides
Giving in to the recent celebrity trend, subtle pink has been a popular choice amongst brides-to-be. The usage of subtle colors other than red in outfits has led to loosening the tradition around bridal colors. Moreover, the pink highlights the bride's softness and innocence, enhancing the wedding's youthful ambiance.
Bridal Gown in a Smart and Rich Orange
People who want to stand out despite their rarity should wear orange dresses. They stand for the vigor and freshness of a young bride. It's a rich color for more bold couples who want to make a huge impression at their wedding.
Floral Gown in Green for Brides
Green is a traditional and calming color that symbolizes nature. A woman will appear more balanced, sophisticated, and adaptable if she wears a green bridal gown. Brighter shades of green signify a substantial degree of compassion and loyalty, while darker greens like bottle green are associated with aristocracy.
For Those Who Love Fish Tails
Fishtail or mermaid dresses have been popular for ages. A bride in a fishtail gown looks simply stunning in lavender or any color. Adorn that dress in sequin embroidery and netting, and she is sure to glam her D-day! 
The new color for brides is purple
Royalty is associated with the color purple. Additionally, it suggests power and force. A purple wedding gown can bring forth your inner princess. It comes highly recommended for bridal outfits.
Ingenious Yellow for Brides
A yellow gown is the best option out of all the colors mentioned above for a couple looking to convey a message of wisdom in a more lively manner. It shows just the right amount of enthusiasm and amusement. Suitable for all seasons but ideal for summer weddings!
We believe these wedding dresses for receptions in the designer's showroom were too stunning and abundant for brides to draw inspiration from. As you make your journey, make sure your gown fits you well.
You do not want to ruin the feeling, for sure. Choose one for your glam appearance right away. Further, you can choose Dazzles bridal boutique if you're looking for the most beautiful wedding gowns for the reception.
Dazzle – The Bridal Studio assures brides are all dazzling and wearing their best outfits at the wedding reception with a comprehensive collection of traditional, fusion, and western bridal gowns.
Moreover, you have a variety of alternatives for your bridal gown, including the wedding gown colors described above. Pick hues that make you feel more elegant and attractive while enhancing your beauty. Many more tones of silver, grey, bronze, gold, and other colors are available at Dazzles Bridal Studio.
There are many different fabrics from which to choose for bridal dresses. However, satin, silk, velvet, and artificial fibers are the most widely utilized materials for making bridal clothing. By the provided measurements, they can be customized and are strong. You can select the best design and material that complements your body type and level of comfort.
Conclusion
Although it is indisputably true that we all desire the ideal bride lehenga, let's be honest and admit that wedding gowns drive us crazy for no apparent reason. The styles of bridal gowns are just as adaptable as those of other wedding outfits. Therefore, bold hues, striking accents, bold hemlines, and unique embellishments are seen at weddings, large-scale celebrations, and everything. 
Brides have always had fun with their outfits and brought their A-game, be it a stylish lehenga or stunning ball gown. To make weddings even more personal, more and more brides are challenging the idea of the traditional dress and are wearing outfits that feel more "them."
Dazzles Studio is the leading bridal boutique in Bangalore. With a wholesome collection of both traditional, fusion, and western bridal wear, Dazzle ensures that the brides are at their glitzy best at their wedding. Each wedding outfit is created by our in-house designers, who infuse their works with individuality and glamour.