The Haldi ceremony is an important and most enjoyable event of any Indian wedding. As such, picking the appropriate attire is crucial. There are many options available, from lehengas, vibrant sarees, and kurtas, to other ethnic clothing. 
When we mention the Haldi ceremony, "Yellow" is unquestionably the color of the ceremony!  But because the bride usually won't be able to wear it again after this ceremony, the first concern that typically arises is whether to choose something new or an old outfit. 
Some people find themselves dressing in their mother's old saree or their sister's Haldi attire. Some people just care about going out and buying new, unusual clothing, even if it means they won't be able to wear it again.
Here are our top 12 Trendy and Fun Haldi Outfits Picks for Brides:
Yellow Lehenga with a Pink Blouse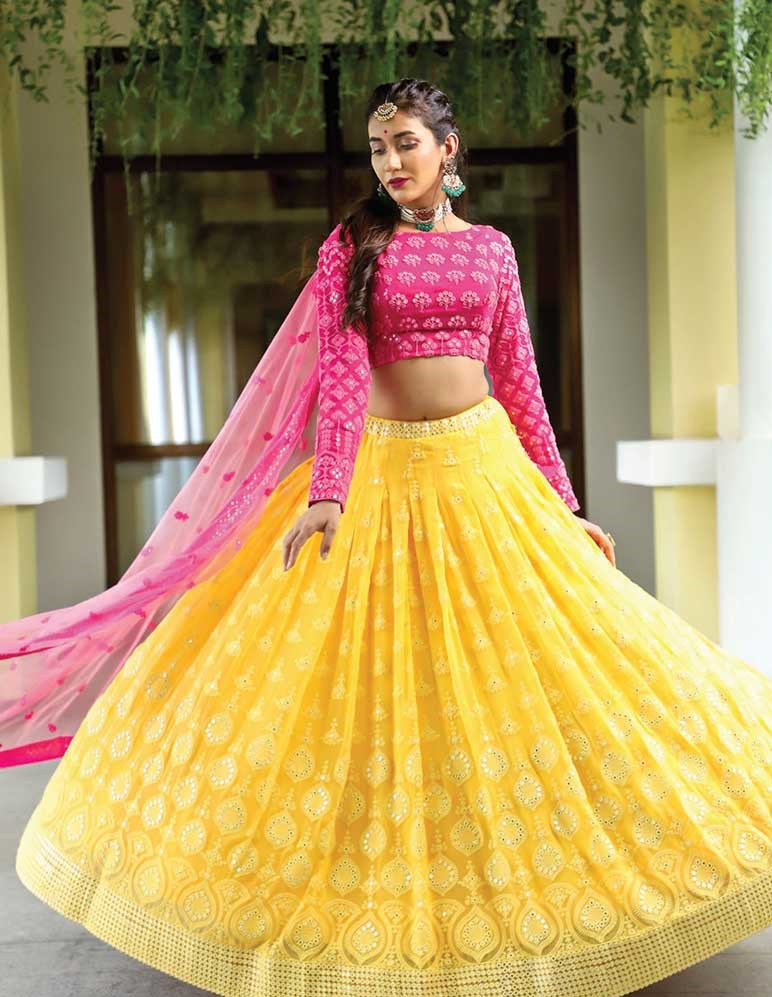 The Haldi dress for a bride must be unique, but no matter how careful you are, it will still be soiled. So, choose something understated yet sophisticated, like a yellow lehenga with a thick lace border and dispersed light embroidery. Pair it with a pink or red blouse. 
Plain Yellow Saree with Half Sleeve Blouse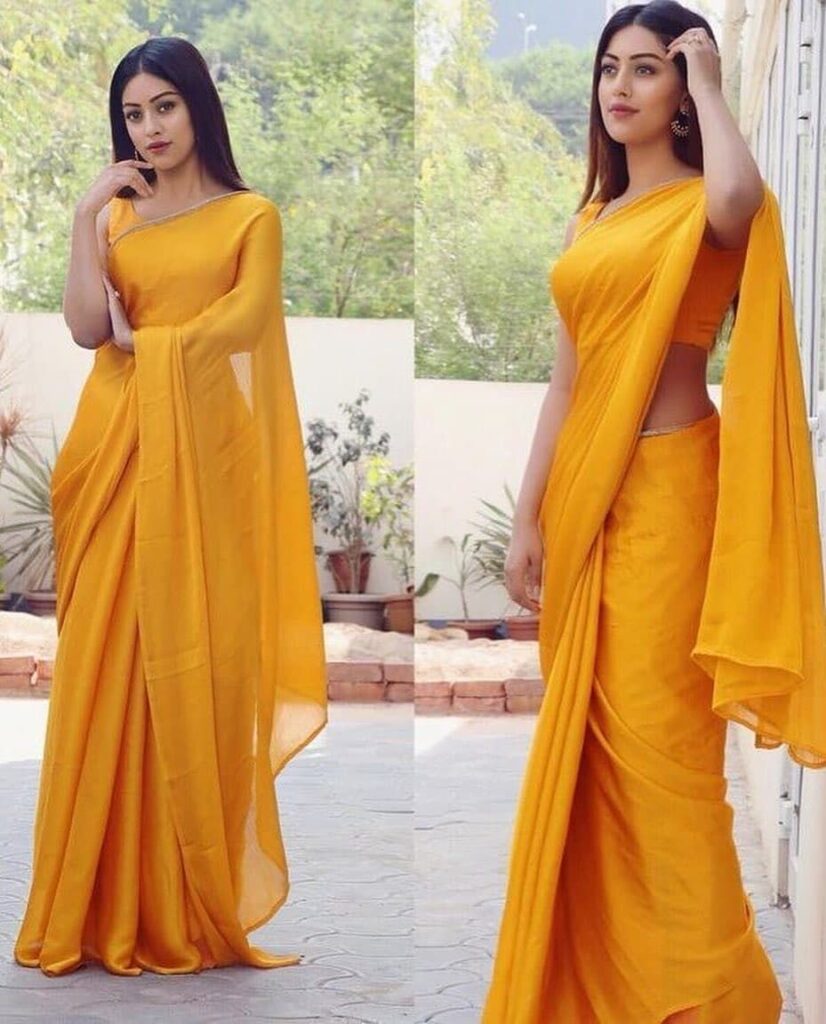 A simple saree from Dazzles is another choice that may be accessorized for a Haldi occasion dress. Because your family and friends would want some room to express their Haldi inventiveness, pair the saree with a shirt that has no sleeves or only a few.
Beautiful Lehenga with Flowers Haldi Look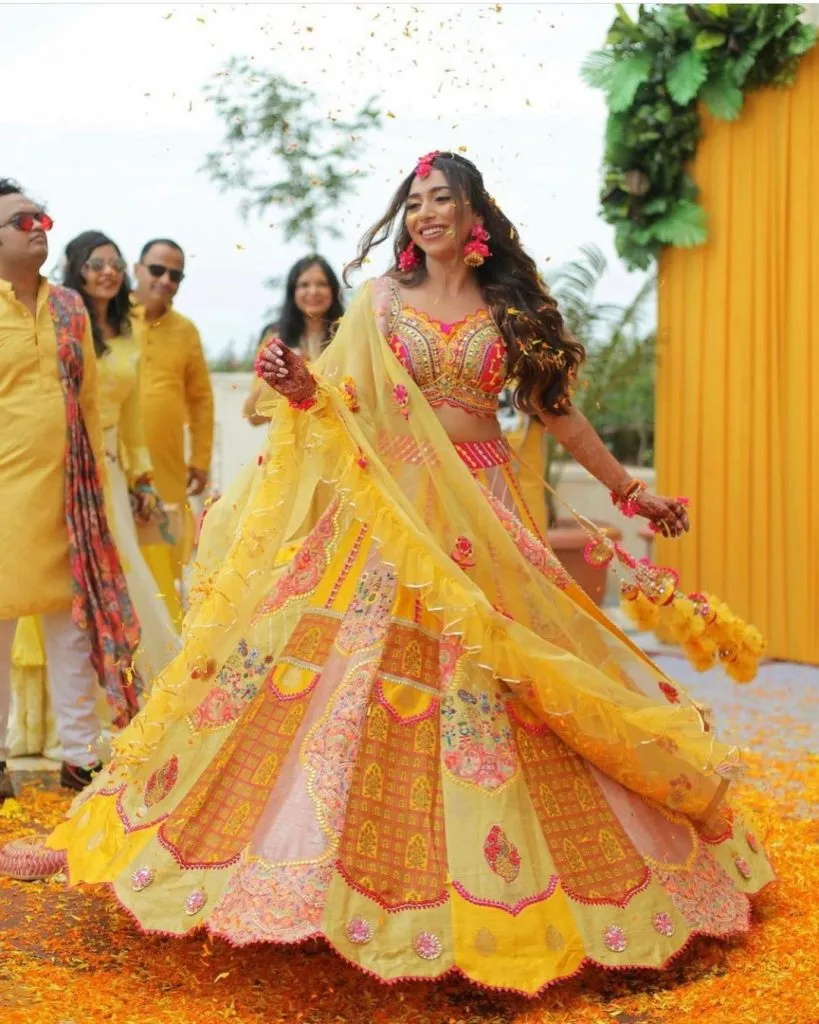 Lehengas are suitable as attire for Haldi functions. It should be the bride's first choice of clothing during the Haldi ceremony. Adorn it with flower motifs or patterns to give a floral touch to the auspicious ceremony. 
Purple Lehenga Outfit for Haldi
Wearing a purple Haldi suit bridal wear will be a really daring move. Brides should only choose this hue if they are certain about it. A wedding Haldi look in a vivid purple lehenga color would be a distinctive outfit to wear.  
Traditional Yellow Cotton Saree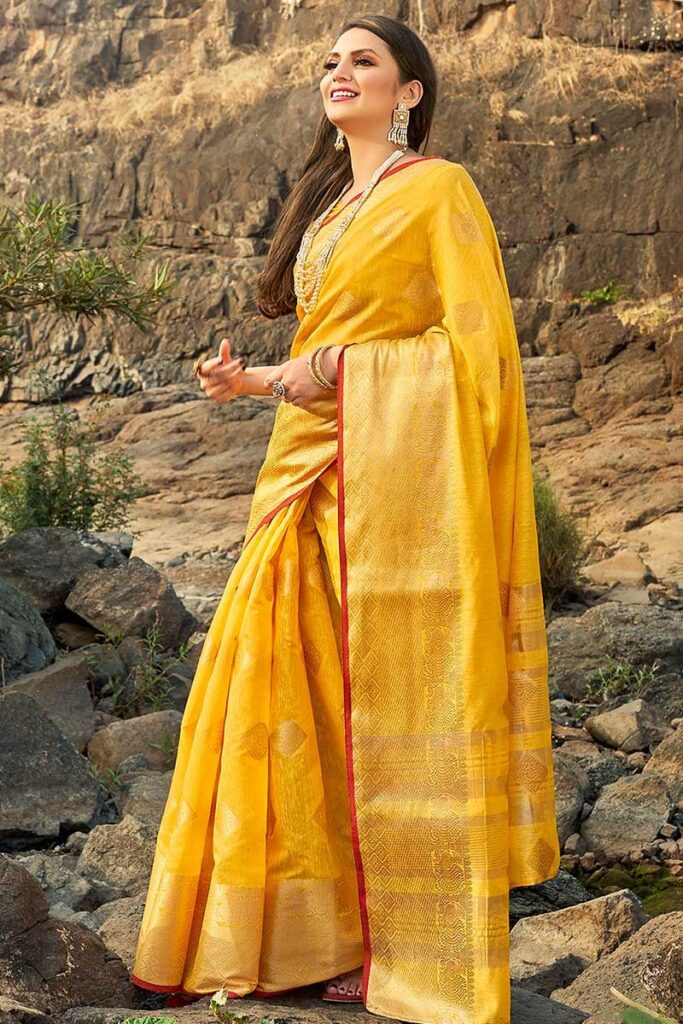 A simple yellow cotton saree looks great when paired with an orange blouse. Given that the Haldi Ceremony often takes place during the day and that sarees have a classic and beautiful appearance, this lovely ensemble is ideal for the bride.
Indian Salwar Kameez Look
The Indian Salwar Kameez with dupatta will always be in style. A bride may wear it without a dupatta too or can adorn a sleeveless kurti to complete the outfit.
Stylish Yellow Saree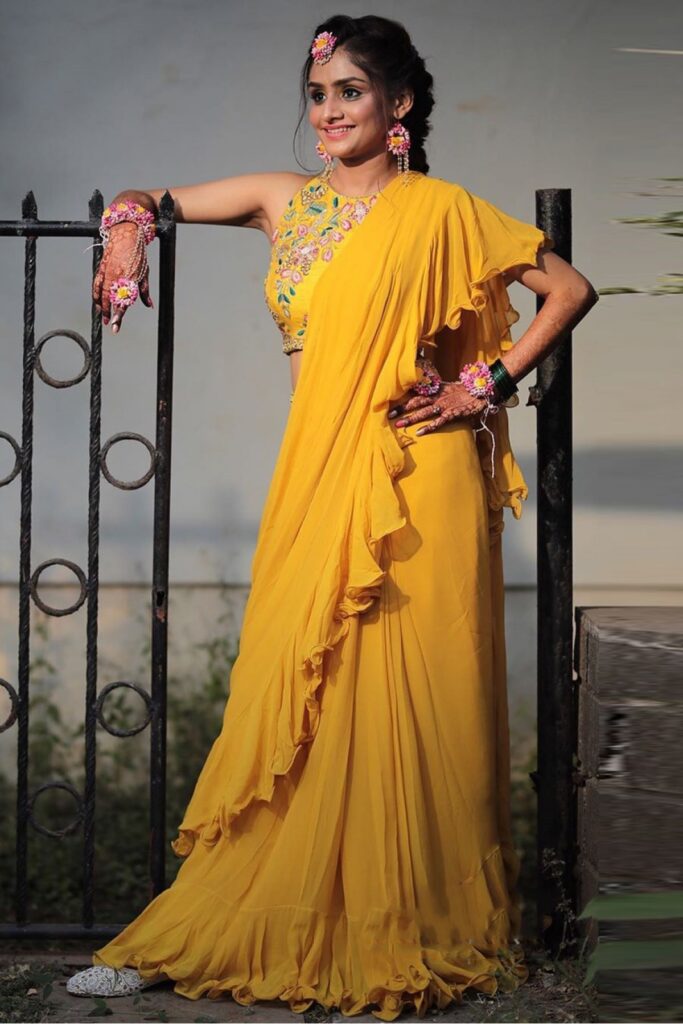 The saree is one of the most popular wedding attire in India. However, modern brides nowadays add to the excitement by wearing trending cuts, patterns, prints, and gorgeousness. This heightens the oomph and the glam in the ceremony too.
Flared Haldi Dress
A flared dress elevates every event. Also, wearing a flared dress will never let you down. Choose a flared gown, or lehenga to enhance your inner beauty. However, you must make a sensible choice. If not, individuals may appear overweight on this.
Patchwork Lehenga
Indian culture is deeply ingrained in the patchwork. Therefore, giving it a Haldi appearance would make the lehenga seem excellent. Create your lehenga with delicate and unique patchwork in mind. And let the appearance develop as you choose.
Modern Yellow Skirt with Layers and Accessory
Many brides choose a skirt as Haldi will be put on their arms and legs. You may always wear it with a shirt with minimal embroidery and a few accessories to keep it subtle yet classy.  
Matching Cotton Saree
A lovely pairing of a cotton saree for the bride and a short kurta and dhoti for the groom. When both ceremonies take place at the same venue, the bride and groom's matching attire is sure to draw attention to the celebration. 
Conclusion 
Wear a suit with striking bell sleeves and a contrasting patterned dupatta from Dazzles if you don't want to deal with a lot of bother but yet want to feel at ease and look chic. Your otherwise ordinary attire will be somewhat varied and given character by the large puffy sleeves.
If you don't want to carry it, just take photographs before the event begins, and once everyone has started dousing you with haldi from all of your friends and family, you may take it off. So, follow the practical, contemporary, and traditional solutions for your haldi ceremony and flaunt the traditional event!.