It is the most anticipated occasion to honor and celebrate the power of love. It has a ring to it that almost matches the clink of the glasses as the loved ones raise a toast. The urban day bridal entourages, on the other hand, take things to the next level by selecting destinations that best suit their special day. Starting this new chapter of your life in a place you both adore, is incredibly romantic.
Destination wedding planning has grown in popularity in recent years, making the bridal trousseau a little more difficult. With breathtaking scenery and dreamy picturesque forts of India, endless sea horizons of Bali, or enchanting gardens of Tuscany, it can be just as difficult to pack lightly while doing justice to your contemporary Indian bridalwear.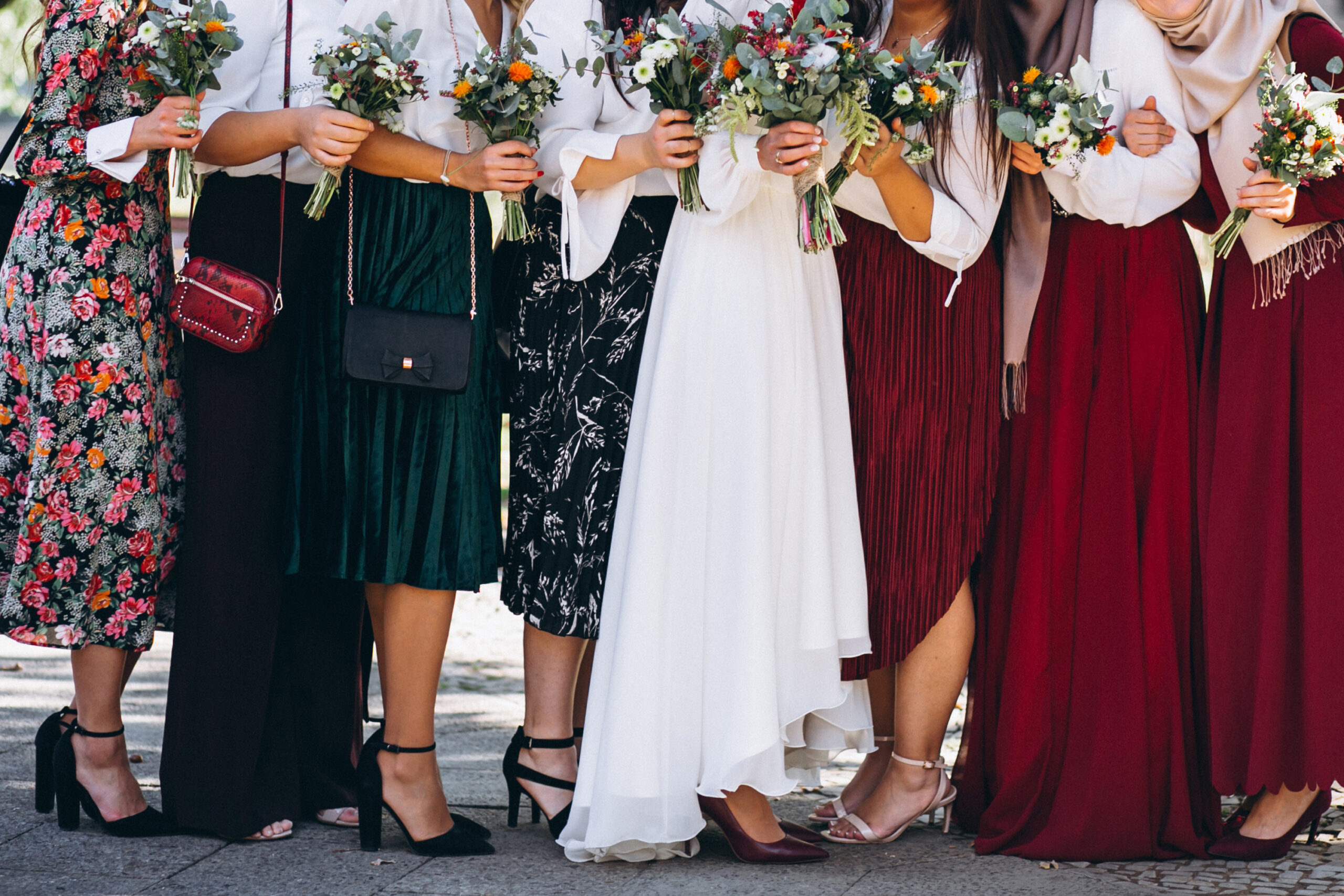 Destination weddings are not only a one-of-a-kind experience, but they are also influencing the future of Indian bridal wear. Not all fabrics and colours are appropriate for a beach or even the woods. As a result, Dazzles is here to assist you in resolving this issue! Dazzles is a high-end bridal shop in Bangalore. With roots in the industry dating back to 1946, we offer ethnic and traditional apparel for all brides and bridesmaids so that they can have fun while wearing classic pieces. Our studio has created a stunning collection of delicately designed clothing.
Because of the unpredictability of the weather, destination weddings can be challenging. Most brides and grooms fail to account for the temperature of the venue and end up sweating profusely. We at Dazzles believe that using the right fabrics can alter the dynamics of your destination wedding attire. For beach weddings, we use light fabrics such as chiffon, linen, organza, and cotton, whereas, for fort or mountain weddings, we use rich fabrics such as velvet or silk. Dazzles isn't just here to help brides! We also have a large selection of Sherwanis and kurtas that are appropriate for all seasons. We use exquisite and lightweight fabric that is easy to pack for destination weddings.
Understanding the location of the wedding and its backdrop can be extremely helpful in deciding on color tones. Dazzles can assist you in selecting the ideal color schemes for your destination wedding. When you marry locally, we're certain you are aware that pastels are the pre-wedding color, vibrant are the wedding shade & darker colors are for the reception look. However, because of the unpredictable weather, it can be a little difficult for a destination wedding. We assist our brides with bold colors for a fort or palace bridal destination and light muted colors for the day. Muted colors and soothing hues are ideal for beach weddings. For a cooler bridal destination, we choose colors such as bottle green, deep maroon, brown, royal blue, and metallics.
The latest trend in 2022 has been digital prints and patterns! As a result, for your overseas wedding, we have some of the finest pieces that will make you rock your ceremony: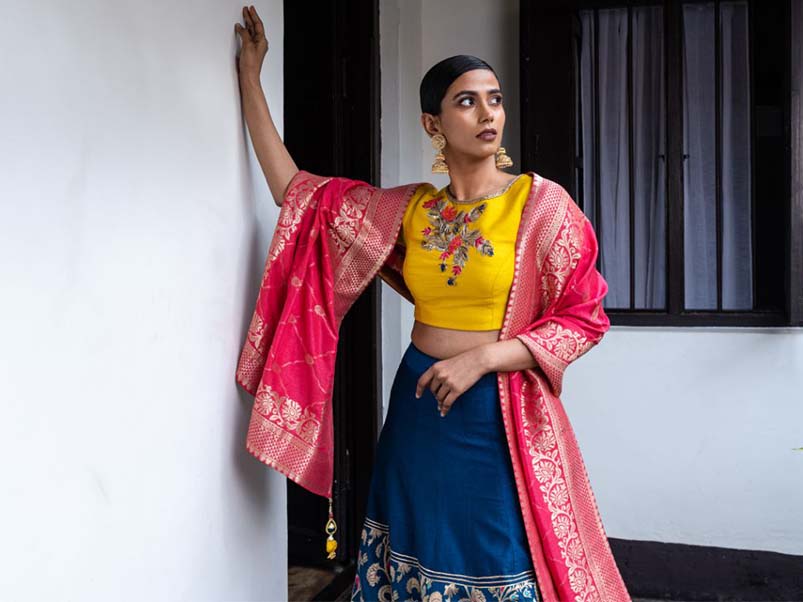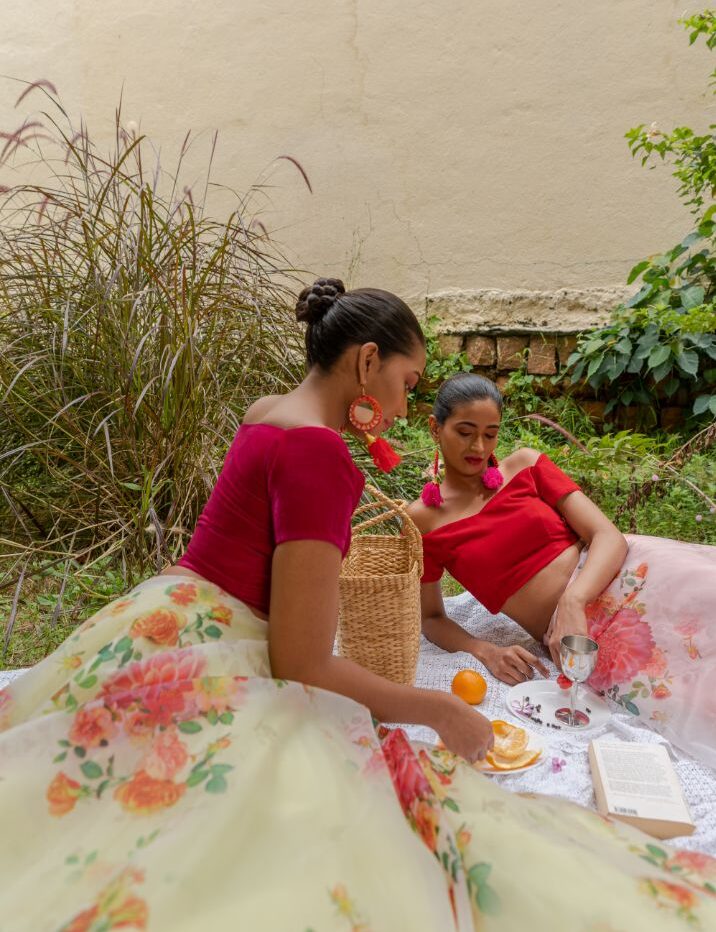 Hand-painted sari: Painted saris have also become popular in recent years. All of the celebrities and influencers have raved about getting a bridal custom-painted saree. We can even help you personalize these lovely sarees by having your wedding date, your partner's name or a picture painted on them.
Floral print wedding Sharara: Floral printed bridal gowns are an excellent choice. We have lovely digital floral print shararas that would be ideal for your Haldi and Mehndi ceremonies. 
Geometric pattern Gown: Dazzles also offers excellent art Deco inspiration gowns that are not only beautiful but also functional.
We understand the importance of embroidery on bridalwear! As a result, we strive to provide you with the most opulent and fuss-free embroideries that will make you look like a million bucks while remaining extremely lightweight.
Weddings can be one of the most beautiful times in a person's life, and a destination wedding can make it even more special. Dazzles take full responsibility for curating comfortable bridal wear that looks elegant, sophisticated, and is also comfortable.