Choosing an outfit to match your mood, day, occasion or even a theme can be too much of a task sometimes. With wedding season coming in too soon, we are here to help prevent you from a cold foot by giving you exactly what you need to hear from us! That's right, we've done the job for you and listed some of the best Wedding Lehenga Ideas that you can choose from to dazzle through the evening.
From Manish Malhotra to Sabyasachi, we've got you covered with ideas that will not want you to take your eyes off this page until you scroll to the very end. Without further due let's get into the details:
Blousing About
A blouse is to a saree like sugar is to tea. Both are nothing without each other and too much of one could dull the other. The whole look can be changed just by adding a creatively stitched blouse. Fancy blouses are the first things that catch an eye and it's pieces of clothing you can play around with as you like. 
Loosely tied Latkans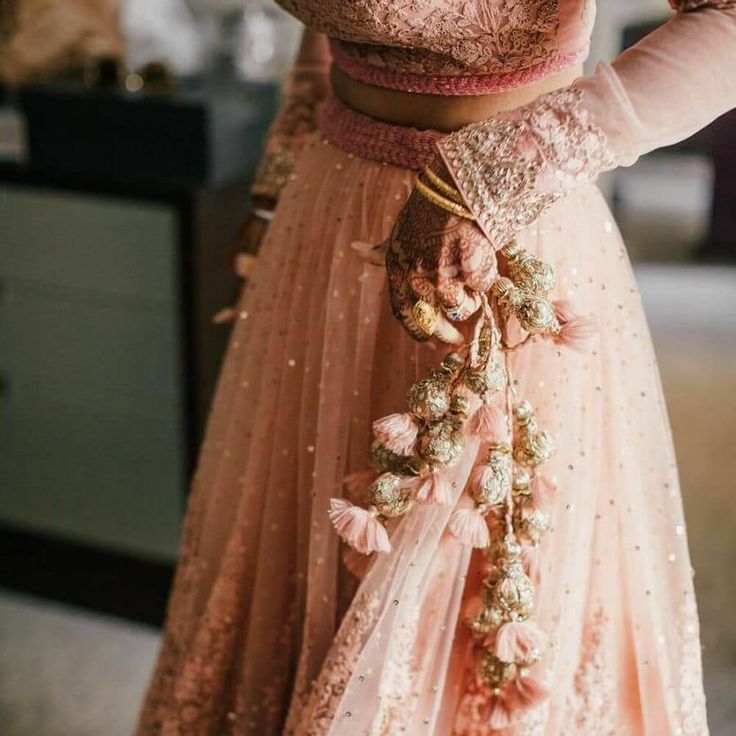 These simple additions can sometimes be a great start if you're not looking for something grand yet want to strive for a modern look. How may you want to add is completely up to you and you can decide this based on the style you want.
Lacy Laces
Laces are a great addition to the blouse, saree, or lehenga that you would be wearing. It distinctively turns a simple lehenga into a boutique showpiece. Mixing and matching lehengas of different colors can give birth to a masterpiece.
Your way or highway
For a bride that does not want to settle for any pre-designed lehengas, sarees, or even blouses. Customizing it yourself can be the new norm. Getting your hands dirty and designing a lehenga from scratch can be quite an adventure. Here, you're the boss of all the details and so there's no room for any errors. Go Wild with this option!
Tassel your way to your man!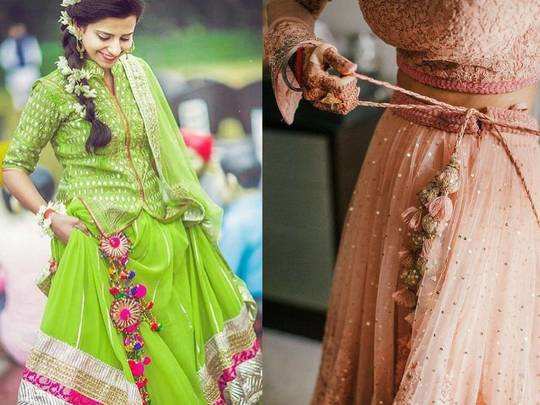 If you're someone that wants to give yourself an over-the-top look and go all-met gala on your wedding. Go, Girl! Ruffles, tassels, and feathers could be your holy grail. They instantly make you stand apart from the crowd and make you look like you've landed straight out of a Hollywood movie. 
Embroidery Enigma
To try and achieve a look that is rather subtle yet screams BRIDE is the one with some massive and beautiful embroideries. You have a lot of options in this varying from 3D thread work, laser cut acrylics and mirror work. This adds the most glamour to your lehenga or your saree and will make you shine from afar.
Color Blocking
This one is for the adventurous. If you're someone that does not want to follow the norm and do something unique out there, then this trend is for you. Color blocking simply means wearing two bold colors to create a completely contrasting look. This could sometimes steal the show or sometimes backfire. So being mindful while designing this is essential.
Silver Moon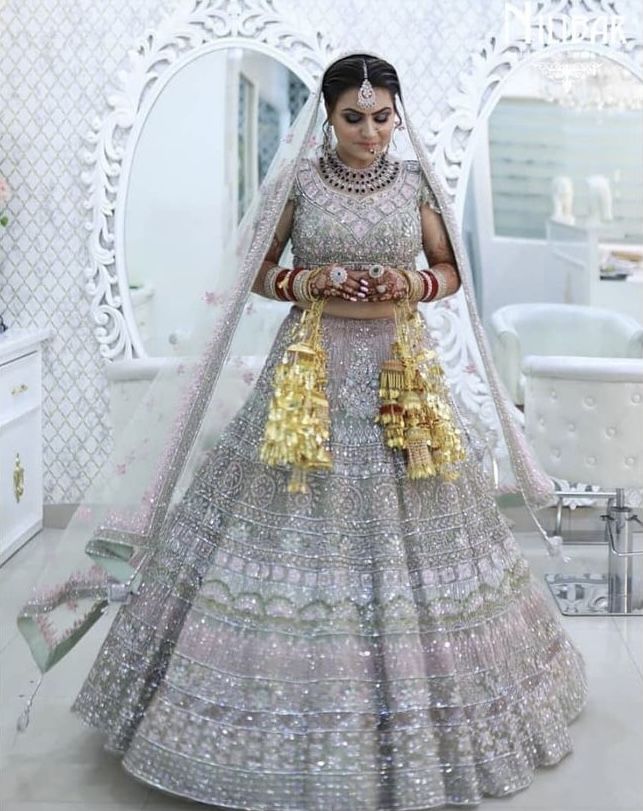 Taking "tum meri chaand ho" too seriously? Well, this lehenga/saree design idea is just for you! Silver lehengas can be an absolute showstopper when it comes to the best wedding lehengas for a fairytale look.
So, now that we've discussed some unique ideas for your out-of-the-world look. Let's spill the tea on where to find some of the most heart-warming lehengas in Bangalore!
Dazzles in Jayanagar is a one-stop destination for all our brides looking for the best dresses and jewelry in town. It offers a wide range of some of the classiest collections that will leave you wanting more. From lehenga to Indo-western blouses, from bridal shower gowns to beautiful jewelry sets. It fancies some top-notch collections.  This is an all-in-one store that you need for every problem wedding related. You don't have to worry about anything starting from engagement to reception. It can all be taken care of in one go. Undoubtedly one of the best bridal boutiques in Bangalore.
Dazzles is a store that will complete you as a bride. Your one-stop destination for all your engagement outfits, this place sports everything from traditional to trendy! Step out and head to this place if you are anywhere close and anywhere around. The store will take care of your needs from A to Z. 
CLOSURE
So, this brings us to the end of our journey of taking through ideas and places to build your perfect dream, a fairytale lehenga for your wedding! Save this for later and curate an idea list with everything that we've mentioned and don't fear to add a tinge of your creativity when designing your wedding outfit for D-Day.