Your best friend is about to get married, and it's time for you to be a bridesmaid. It's an honor to stand next to your friend and a privilege to serve as a part of her wedding day support system, so now it's time to start scouring the markets for affordable bridesmaid dresses.
However, being a bride or bridesmaid also makes you face all those boring designs sold by almost every second shop! But not anymore!
The wedding is the most important day in a girl's life, and she wants everything to be perfect. A bride never takes any chances with her wedding lehenga, which she would have always fantasized about. The colors of life, love, and friendship could be represented by these colors. The definition of color is anything that makes you happy. When you talk about your wedding and the dresses you will wear, it should reflect your happiness. Dazzles is here to assist you in adding that personal touch.
Dazzles is a premium Bridal boutique in Bangalore. With our roots in the business since 1946, we provide ethnic and traditional attire for all brides and bridesmaids so that they can enjoy themselves while wearing classic pieces. Our studio brings you a stunning collection of daintily designed clothing. We have ethnic occasion wear such as Gowns, Crop tops, Indo-western, Ghagra, Chudidaar, and fusion wear in our wardrobe exquisitely handcrafted by the best of designers, to get you covered for all your occasions. 
Dazzles capture the essence of the city. We are a heritage yet young, innovative, and dynamic brand that specializes in contemporary, ethnic Indian fashion and fusion-wear styles. Our design and aesthetic sensibilities draw inspiration from a wide range of sources, including the beauty of nature and tradition in art, culture and architecture, intricate creations, and the modern world, which includes India's home-bound handloom traditions. 
The Work We Do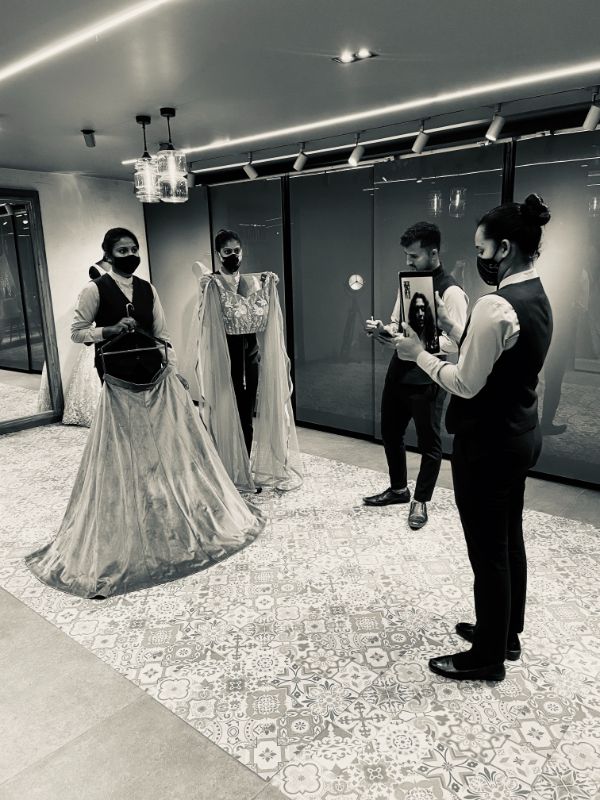 Studio by Dazzles will make you the bridal lehenga of your dreams. We can even provide you with a variety of styles and embroidery work to choose from so that you can find the perfect wedding outfit.  Each garment is made with high-quality fabrics and is tailored to the bride-to-be as per her needs and preferences. Our store is the PERFECT find for all of you upcoming brides. Our designs will entice you to wear the outfits on a variety of occasions, attracting attention and turning heads wherever you go!
We have a stunning selection of bridal lehengas, pre-wedding sherwanis, twinning- outfits, and indo-western dresses, for the bride and her bridesmaids. For many years, we have collaborated with a talented army of printers, karigars, and tailors for curating amazing pristine wedding gowns, bridal lehengas, and pastel-colored anarkalis. We prioritize customer needs and current trends. Our collection combines reasonable prices with a wide range of designs to provide our customers with a pleasurable shopping experience. You can get any type of dress for your wedding and bridal trousseau. We also make certain that you have the best fitting outfit and that you stand out as a bride at your wedding and all other related ceremonies.
Bride-to-be can explore our "Belle Of The Ball" collection for picking her wedding gowns in Bangalore. The "Cozy Summer Evenings" collection is best for the Mehendi ceremony and the "Girls Just Wanna Have Fun" collection for Haldi. The cocktail ceremony and sangeet need to be comfy yet stylish, thus, our "Dance the Night Away" and "Old Hollywood" collections will suit your purpose.
It goes without saying that your wedding day is one of the most important days of your life, you must wear the best bridal lehenga possible. The brides who prefer red can go with our "Lazy Summer Afternoon" and 'Wine' collection. However, if you want to experiment with colors, the 'Underwater Caverns' collection is what you must explore. Hold on! Do not panic! For all the Bridesmaids, we bring to you our exclusive "Dandelion Dreams", "Beige," and "Metro Fairies" collections to look beautiful and sassy. 
With a touch of delicacy and great insight into the latest fashion trends, Dazzles curates beautiful bridal gowns in Bangalore with traditional Indian embroidery and textures, blended with stylish silhouettes that apprehend the eye and appeal to  the heart. We are not reinventing ourselves. Instead, as part of our creative process, we reinterpret Indian aesthetics, indigenous embroideries, and unparalleled craftsmanship.