Giambattista Valli couture is the place to go for timeless elegance. The Italian-French designer is inspired by the French couturier's founders and their watercolors. Evening gowns, from tiered ruffle styles to pink flowy designs to off-the-shoulder draping and tulle fabrics, will have all eyes on you. His sweeping gowns and floral mini lengths exude sophistication.
Manish Arora is a well-known fashion designer who has been dubbed the "John Galliano of India." He is widely regarded as one of the most celebrated and inspirational contemporary designers working today. He is well-known for his deft craftsmanship and distinctive color palette. Many of his designs feature traditional Indian crafts such as appliqué, beadwork, and embroidery.
However, buying these expensive designers isn't what everyone can afford. Thus to make your dreams come true and to help you wear what you have dreamed of your entire life! Dazzles is here to assist you.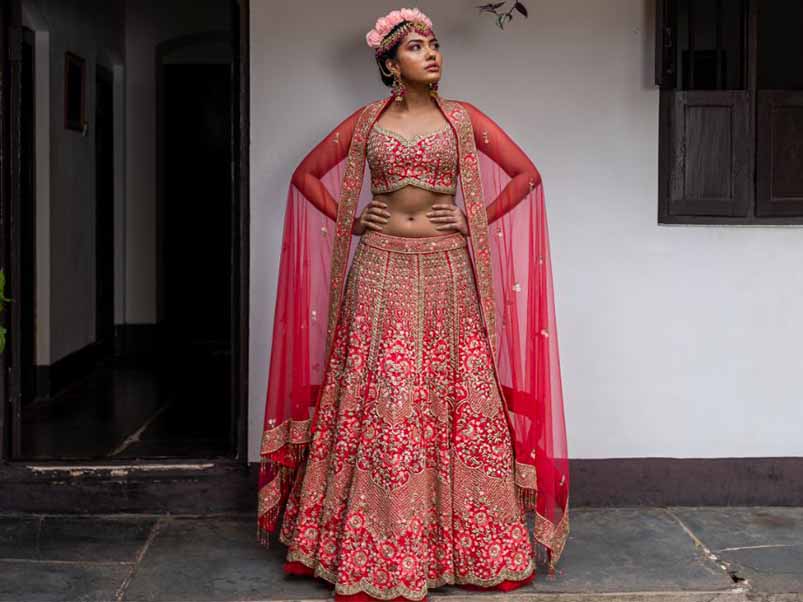 Studio by Dazzles is a high-end bridal lehenga store in Bangalore. It is a designer brand that provides ethnic and traditional wear for all children attending wedding festivities, allowing you to have a great time while wearing classic pieces with them. Our designs combine traditional fashion with modernity to turn your wardrobe into a fashion statement. Be it the mermaid silhouette, a  dash of bling or structured adornments, our bridal gowns will make you stop and take note of them.
Visit our store and browse our ultimate collections of Cocktail and Reception Gowns and dresses, then get ready to slay around taking candid photos and creating lasting memories. Cocktail gowns with feathers, sculpted designs, fish cut gowns, asymmetric layers, hemlines, off-the-shoulder gowns, ruffled gowns, net embroidered,  saree lehenga gowns, and more. You can accessorize these gowns with simple jewelry and perfectly matching shoes to create a stunning look that will be remembered forever.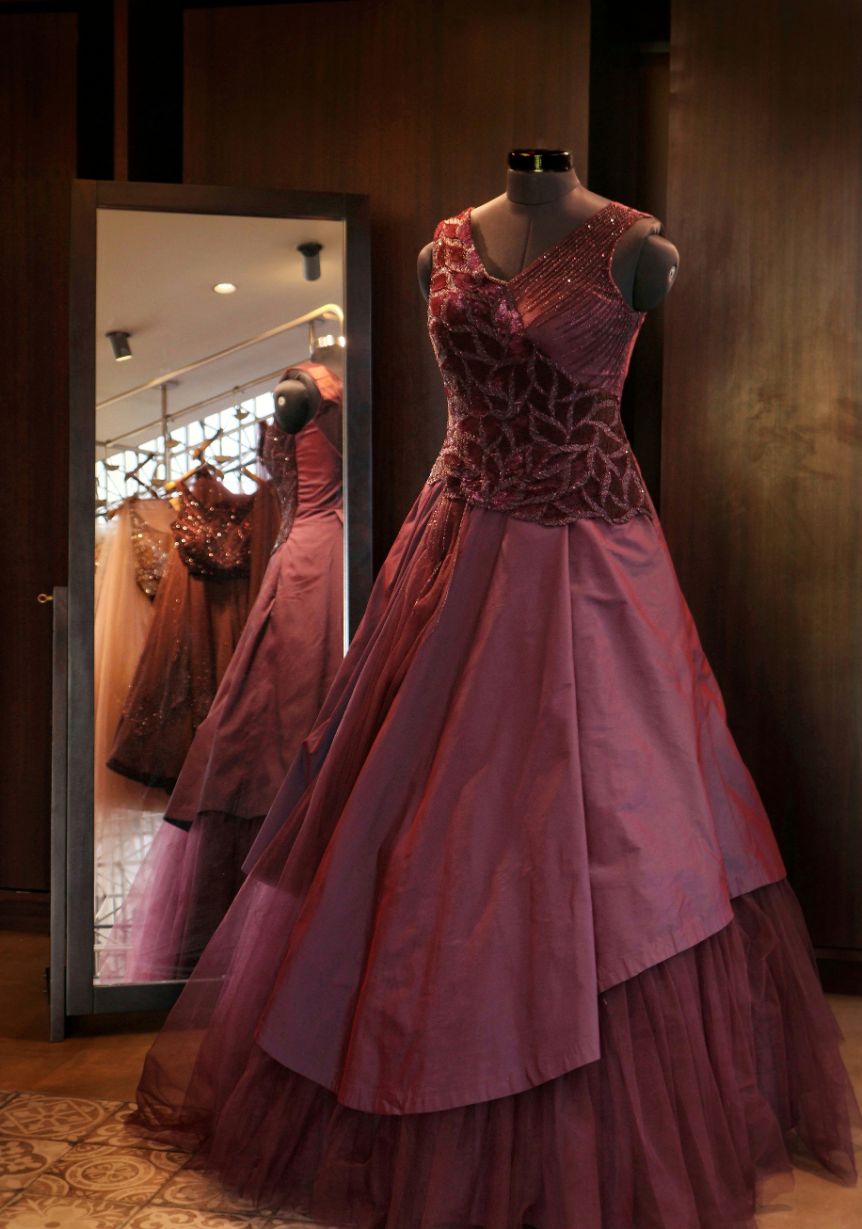 With our unforgettable designs, we are recognized for bringing undeniable panache and a stylish sculpted style to the table. You can choose a gown with a sculpted drape and shine like a diamond at any cocktail event! Our cocktail dresses are a symbol of high fashion and are intended for a high-powered reception at a large Indian wedding. For cocktail party events, a bejeweled clutch, diamonds or other complementary precious stones as earrings, and a statement ring will complement our magnificent gown perfectly.
Are you planning a destination wedding or an outdoor party with a gorgeous view, breathtaking sights, jazzy music, and low-key fun? Our printed dresses have become a signature of our line. The simple designs are ideal for a lighthearted wedding reception. You can get a gown with an Indian floral print on a profound jewel-toned background, such as emerald green, ruby red, or cobalt blue. This is an eye-catching, yet subtle, style of floral cocktail dress that will get you just the right amount of attention.
We can transform the traditional saree into a cocktail masterpiece. If you're looking for luxurious Indo-western choices to ditch regular satin cocktail dresses, come to our store right away! Dazzles delicate and innovative drapes make for breathtaking cocktail dresses that combine the richness of satin and silk with the diaphanous luxury of organza, ensuring you look better than the rest without needing to be loud or garish. Saree-inspired designs are undeniably elegant, sophisticated, and effortless.
Dazzles designs give cocktail dresses a blinged-out, glam, Bollywood-inspired makeover. Our cocktail dresses are stunning, flamboyant, and super glittery if you want to ooze celebrity elegance at the upcoming wedding you attend.
With lehenga-inspired cocktail dresses for Indian weddings, you'll shine like a rising star. This is not a style for the faint of heart, and you will undoubtedly outshine everyone at the wedding, including the bride, in this ensemble. For brides, our cocktail dresses give you the opportunity to be the center of attention at your reception, which you deserve!
Dazzles provide ethnic and traditional wear for all wedding guests so that you can enjoy yourself while wearing classic pieces. Our designs combine traditional fashion with modernisation to transform your wardrobe into a fashion statement. So what are you waiting for? Head to our store now!