A bride's hairstyle is just as important as her dress and accessories. The right combination of all three can completely transform her look. Therefore, choosing bridal hairstyles for your wedding festivities should be a conscious decision.
To guarantee that your bridal hairstyle properly complements your wedding appearance and bridal wear, we've gathered some of the most uptown bridal hairstyles for you.  
Whether you have hair long or short, we've got ways you can style it up!
A Defining Bridal Hairstyle
No longer is a bridal hairstyle just about setting your hair in a pretty updo and adding some flowers for decoration. In today's world, a bride's hairstyle says a lot about her personality and who she is as a person.
For example, a sleek and tight bun reflects elegance and class, whereas a loose and open wavy hairstyle represents playfulness and fun-loving personality.
South Indian Bridal Hairstyles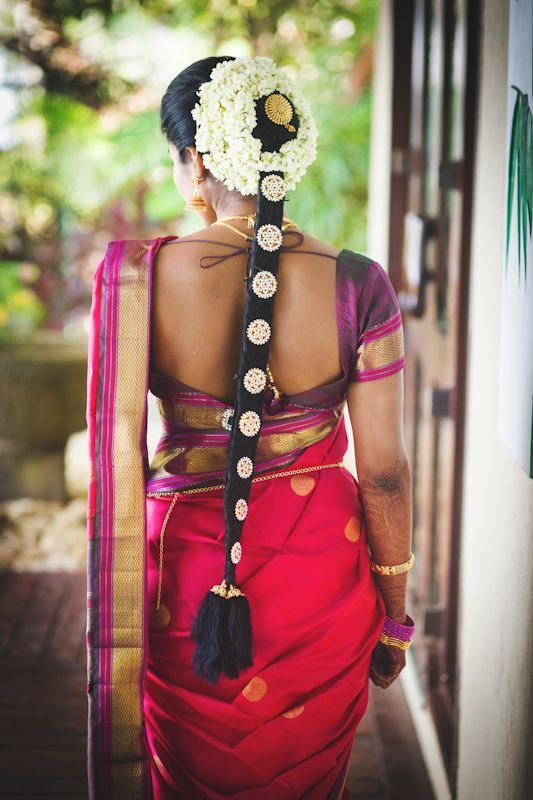 There's something about South Indian brides that just radiates elegance and appeal. They always manage to look classic and chic, even in the most effortless way. Every part of South Indian brides makes us swoon, whether it's their classic Kanjeevaram sarees or magnificent temple jewellery. We can't get enough of how beautiful they look!
A South Indian bridal hairstyle is a work of art. From Jada-covered long braids to flower bouquet buns, South Indian bridal hairstyles are a feast for the eyes. 
While traditional South Indian hairstyles are still popular, brides are now showing off new hairstyles, and we are loving it!
Let us look at these stunning South Indian Bridal Hairstyles that are all you need to get inspired.
A gorgeous mogra bun: Mogra hairstyles are popular among bridal hairstyles, and this one with a classic brooch adornment is a safe bet.
A simple Gajra bun: Gajras is an elegant hairdo for South Indian brides. Most traditional brides use these quirky flowers to embellish their bridal hairstyles. And here's a simple way to incorporate them into your bridal hairstyle- tie a gajra thread around your bun many times, and you're done.
Half-tied braided hair: This bridal hairstyle is ideal for brides who want to keep their hair open. The lovely locks are half-down and semi-braided. Flowers are used to accenting the hairstyle.
A traditional South Indian hairdo with a plethora of flowers: Multiple layers of flowery ornaments on the bride's starting point are quite eye-catching. And we adore the addition of pearl and stone-embedded accessories.
A scintillating braid: Tie your hair into a doughnut bun and fill it with mogras, leaving the centre of the bun uncovered. Then add a faux braid and classic brooch accents to complete the look.
Bridal Hairstyles for Long hair
If you have long hair, you're lucky because you have a lot of different hairstyles to choose from. When it comes to bridal hairstyles for long hair, there are many options, including braids, complex buns, and fashionable long cascading curls. And here are some of the most beautiful bridal hairstyles for long hair.
Kareena Kapoor's iconic bridal hairstyle: Kareena Kapoor's bridal appearance in Veere Di Wedding influenced the bridal bun hairdo and is perfect to compliment the bridal lehenga in Bangalore. Not only is the bun embellished with flowers, but the hair on the sides is also.
Natural-looking semi-open curls: What better way to show off your long locks than to keep them open? This magnificent half-up and half-down hairstyle with natural curls make your relaxed hair look more glamorous.
A sleek braid amidst curly tresses: A crown braid leading to a sleek braid among a slew of lush curls looks stunning. It is also one of the most elegantly accessorised hairstyles. It contains tiny crystals and modest florals, which add to its allure.
Allow the charm of the baby's breaths to make a powerful statement: Baby's breath flowers are very popular in bridal hairstyles. Tie your long hair into a beautiful bun and pair it with these delicate fresh blooms.
A low twisted bun: Another bridal bun that wonderfully accentuates the volume and length of your tresses is this twisted low bun glammed up with a lovely hair item.
Bridal Hairstyles for Short Hair
We know what you're thinking – only hairstyles with long hair can be adapted to achieve the perfect bridal look, right? WRONG! We hope to change your mind with this list of the best bridal hairstyles for short hair. 
There are numerous techniques to twist your short-length hair to achieve the ideal bridal hairdo. Short hair allows you to experiment with a wide range of bridal hairstyles, from loose curls to crown braids to small buns adorned with a wealth of flowers. No matter what your wedding day vision may be, there's definitely a style on this list for you. So if you're rocking short hair, don't sweat it – you've got plenty of options!
In reality, wearing short hair can be a win-win situation. You can choose to wear a bridal hairstyle with long hair extensions, or you can opt for a beautiful short bridal haircut instead.
Use a lot of flowers: Make your bridal hairdo big, enticing, and elaborate by tying your hair into a basic bun and adorning it with a large floral arrangement. Baby's breath, pink carnations, and pink rose petals make up this flower bouquet bun. Don't forget to give some dimension to the front of your bridal hair. A side-sweeping swirly hair strand can also work wonders.
Let them curls make a loud noise: Here's the perfect one if you want to keep your hair open. Curl your hair finely and hold it open with a side divider
Go the effortless way: Show off your easy style and swagger with this casual haircut that keeps the ironed tresses loose.
French twist bun: The iconic French Twist bun might be a terrific hairstyle option for brides with short hair.
A side braid bun: Here's a stunning bridal hairdo for all of you stunning divas. Make a simple braid on the sides and roll your hair up with a puff. It is undoubtedly one of the most fashionable bridal hairstyles for brides with short hair. Carry it off with the best outfit from the bridal boutique!
Side-parted open hair with crisp waves: This beautiful haircut is another option for making a bridal statement with short hair. It has loose hair that is side-parted and crisply waved. This hairdo can add a touch of elan to your bridal look.
Your wedding day is one of the most important days of your life, so you want to make sure your hair looks flawless. These bridal hairstyle trends and tips can help you achieve the perfect look for your big day!