People might think we are overemphasizing, but the bridal dupatta can make or break the bridal look. Styling the dupatta correctly is important to nailing the bridal look, and an incorrect dupatta can make the look dull as an ill-fitting blouse can. While it is obvious that picking the correct dupatta is important, it is even very essential to pick the right dupatta fabric. Here is where the fall, weight, and final look come into the story. Should the bride pick organza, net or georgette dupatta? For, knowing it, let's read it below. 
1. Organza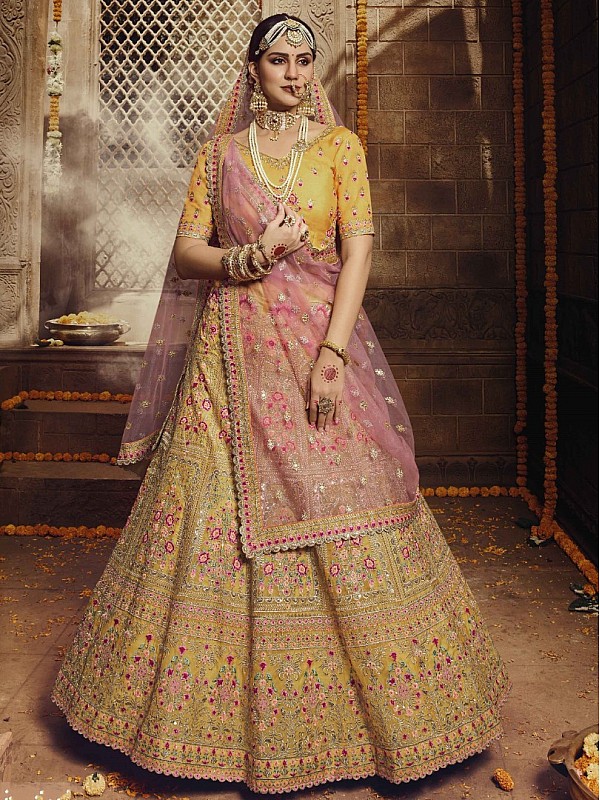 Organza is a wafer-thin, plain weave, sheer material basically made from silk, which finds roots in former Afghan Turkestan. These times, there are also modern organza's from synthetic filament materials, such as polyester or nylon. It is translucent and has a soft shine to it. 
Advantages 
It's delicate and breathable. 
Looks stylish and elegant. 
Drapes well as it is simple to fold and structure. 
Ideal for a head dupatta if you want something light yet lavish. 
Lets you show off your bridal bun as it is lavish. 
It does not pill. 
Printed organza also looks beautiful. 
Disadvantages 
It is a fabric that's slightly stiff. 
Silk organza is costly. 
Very delicate material, so prone to ripping. 
When it is ironed, then it is easily frazzled. 
Synthetic organza is not as simple as silk organza to style. 
2. Net 
Net Dupattas are most likely the common and at least 1 of the 2 dupattas a bride wears with her lehenga. Net is easy and simple to match with just about any material. 
Advantages 
The most lightweight choice for bridal dupattas. 
Is beautiful to take as a veil too. 
The fabric is cheap. 
It is very breathable. 
Can hold out against a lot of embroidery and work. 
Simple to style and drape. 
The beauty of a net dupatta is that the bun and flowers show through it. 
Maintenance is low. The most famous choice for bridal head dupattas. 
Disadvantages 
Is not the most luxurious-looking material. 
Inclined to get stuck due to the lehenga work. 

Requires a better border to look classy and weigh it down. 
3. Georgette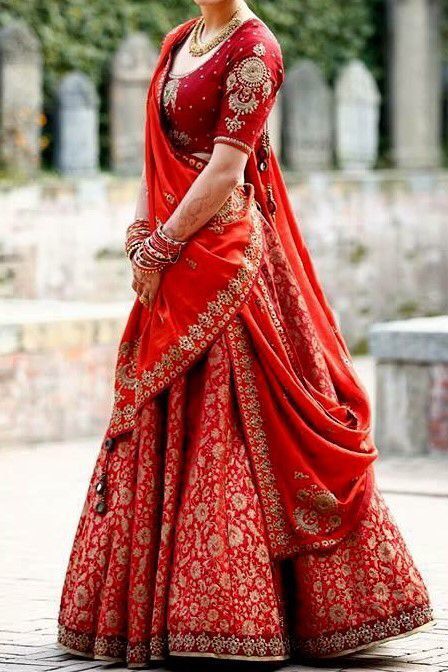 A material that is flabby and soft, Georgette is a soft, fluid material that looks better with work that is delicate and not too much. 
Advantages 
It is smooth and has the best fallout of all. 
Very comfortable fabric. 
It is a durable material. 
Affordable fabric. 
Very famous with Sikh brides. 
Georgette dupattas are really good if you want to just use them as a second dupatta for draping and hiding your belly area, or want to drape it like a saree style. 
Disadvantages 
Is a non-transparent material, so the blouse or bun might not show through. 
Is not really a good option for a head dupatta if pinned over a bun. 
Is inclined to fade over time. 
Might not take heavy work too well. 
Quality really matters when it comes to this fabric, as sub-quality georgette is inclined to tear or rip when heavy work is done on it. 
A bride who likes a fuss-free and relaxed look should go for a georgette or organza dupatta. If you are looking for a heavy bridal dupatta, then go for a net dupatta as the embroidery can be done well on it. If you are finding something that can be re-used even after your wedding day, a georgette or organza dupatta is your good one. But if you are finding for creating a customized bridal dupatta to match your wedding lehenga, then the net is a better option. 
Here are some other dupatta materials for you to consider: 
• Benarasi Dupattas: Not made to be worn on your head, these are good for layering or just to add a statement piece like for instance a shawl. They add a lovely, high-quality old-times vibe when covered with your existing outfits. 
• Velvet Dupattas: A winter blushing bride's dream come true, velvet dupattas are a good style accessory. A mixture and match of Velvet with prints and other materials can give a beautiful, covered look. 
• Chiffon Dupattas:  Chiffon is a really fragile material and tears easily with enormous embroidery on it, and is best kept to just hanging plain dupattas to match with light lehengas. 
• Chanderi Dupattas: It makes the bride looks like butter on the skin and is a good option for pastel attire